The art of aromatherapy had been practiced for thousands of years. Strong evidence was found to link aromatherapy to many ancient traditions. Though aromatic oils have been used to treat and cure various ailments and conditions for centuries, the formal study of their properties only started in 1928.
In its simplest form, aromatherapy is the use of essential plant oils for therapeutic purposes. They are normally employed to relieve a person from stress and a variety of stress-related conditions. They are also used for promoting an individual's general wellbeing and invigorating the body and the psyche.
Aromatherapy is concerned with the workings of both the physical and emotional aspects of the person under treatment. Physically, aromatherapy helps in relieving specific conditions through the stimulation of the nervous, immune, and circulatory systems. In emotions, however, they may evoke pleasant memories and uplifted moods.
Although the medical community is not in agreement over whether aromatherapy in itself is instrumental to healing various medical conditions, the idea of recovery through aromatherapy is widely accepted.
Essential oils are derived from the distillation of the elements of a plant like the leaves, roots, flowers, stems, and bark. They hold the true essence of the plants from which they originally came in high concentration. Though termed as oil, essential oils normally do not have the real properties of oil. Some essential oils are yellow, like that of lemongrass, and orange, and many are clear.
These oils are used in a variety of methods: through inhalation, by adding them to the bathwater, and by the application of the diluted oil on the body.
The use of oil in aromatherapy is only applicable to those with unadulterated qualities. The purest of essential oils alone have therapeutic values.
Essential Oils for Aromatherapy
Let's have a closer look at what Anne Kennedy (author of Aromatherapy for Beginners) calls the "must-have" oils in your kit:
CLOVE (Syzygium aromaticum)
Clove essential oil has a sweet, spicy scent that can uplift your mood; ideal for creating natural air-freshening blends to scent your home. Clove is also outstanding as a pain reliever, especially for toothaches. Dentists used clove essential oil on their patients before contemporary numbing agents became available. Clove is also an outstanding addition to blends for easing muscle and joint pains, and for aiding indigestion issues.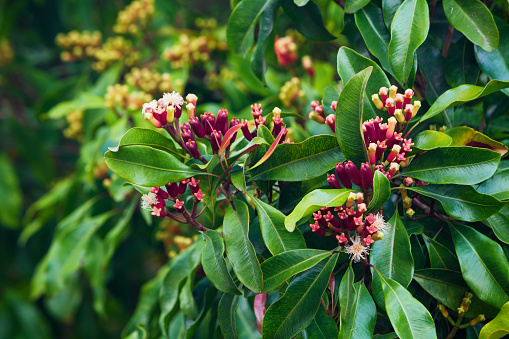 EUCALYPTUS (Eucalyptus globulus)
Eucalyptus essential oil has demonstrated its antioxidant, anti-inflammatory, anti-proliferative, and antibacterial activities, and researchers have proved its efficacy beyond doubt in the treatment of various metabolic and infectious diseases. It's among the best essential oils for treating cold and flu symptoms. Skin problems like wounds, cuts, burns, herpes, lice, insect repellent, and insect bites can also be treated with it.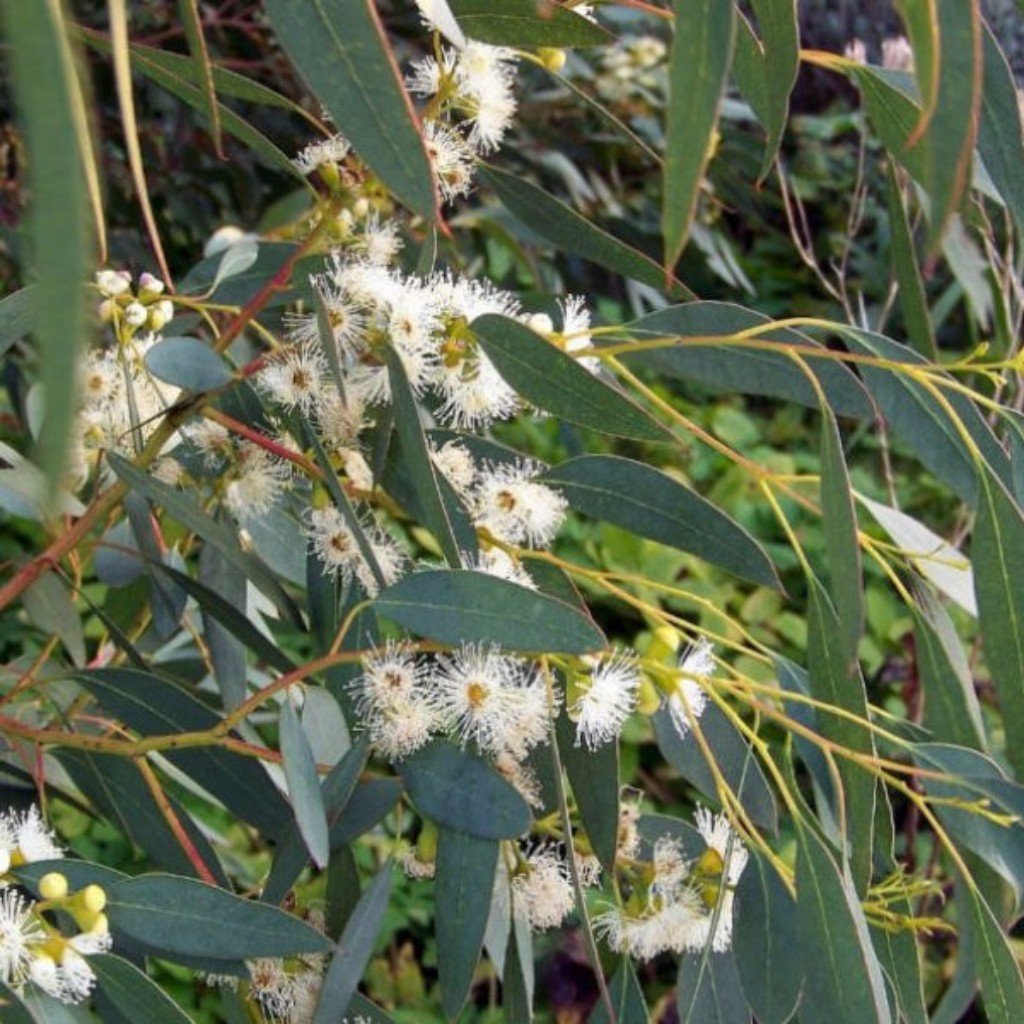 GERANIUM (Pelargonium graveolens)
Geranium essential oil is one of the best natural perfumes generally used in soaps, detergents, and other skin care products. It's also an effective insect repellant that you can add to your homemade bug spray. In addition, geranium essential oil has hormone-balancing benefits for women who want relief from PMS and menopause symptoms.
LAVENDER (Lavandula angustifolia)
Lavender essential oil is renowned for its ability to calm and quiet the mind while promoting a sense of deep relaxation. It contains biochemicals that can improve the feeling of wellbeing, support mental alertness, and relieve aggression and anxiety. Lavender is a versatile essential oil for its healing and regenerative properties, which makes it a top choice for aromatherapy.
LEMON (Citrus limon)
Lemon essential oil is mainly used to boost the immune system. It has mood-elevating properties and is effective in controlling nausea and vomiting. Its constituents have antiseptic, astringent, and detoxifying properties that are good for the skin.
LEMONGRASS (Cymbopogon flexuosius)
Lemongrass essential oil has strong anti-fungal and anti-inflammatory actions. It can speed up the recovery of ligament and tendon injuries; repels insects; aids sedation; dilates blood vessels to promote healing and improve circulation; promotes lymphatic flow.
PEPPERMINT (Mentha piperita)
Peppermint essential oil is used in many liniments dosage form to relieve pain spasms and arthritic problems. It helps soothes aches, pains, and itchy skin, including psoriasis and eczema; eases tension and headaches; soothes respiratory infections and asthma; relieves nausea and other digestive problems; combats viral and fungal infections, including cold sores.
ROSEMARY (Rosmarinus officinalis)
Rosemary essential oil is another versatile oil that improves circulation; eases arthritis and rheumatism pain; relieves muscle cramps; combats dandruff, hair loss, and itchy scalp; reduces oily skin and acne; alleviates respiratory discomfort; helps colds and congestion.
TEA TREE (Melaleuca alternifolia)
Tea Tree essential oil is shown to have antibacterial, anti-inflammatory, antiviral, insecticidal, and immune stimulant properties. It's effective for dealing with fungus, treating minor wounds, and clearing up a variety of minor infections. Among its proven uses are treating acne, seborrheic dermatitis, and gingivitis. It can also be used for the treatment of respiratory associated problems.
In the book, Anne also describes their application methods for inhalation, topical, and bath use, as well as some precautions when using them. She also lists other oils they blend with ideally and oil substitutes in case they're not readily available.
Essential Oil Recipes
Now that we have a basic idea about essential oils, it's time to make blends that you can try for some of the most common ailments.
Here are Anne's recipes for the following conditions:
Essential Oils for Anxiety
ANTI-ANXIETY DIFFUSER BLEND
This intoxicating blend can be used in aromatherapy jewelry or essential oil inhalers, as well as added to bath products. This recipe makes about 30 TREATMENTS.
In a dark-colored glass bottle with a dropper or orifice reducer, combine the clary sage, lavender, lemon, and patchouli essential oils. Let them rest for at least 1 hour.
Add 3 or 4 drops of the blend to a diffuser and use it according to the manufacturer's instructions. Repeat any time anxious thoughts intrude.
Keep your diffuser blend in a cool, dark place between uses.
Tip: You can use this blend while resting, meditating, or doing another activity that takes your mind off your troubles.
Essential Oils for Colds
COMFORTING EUCALYPTUS STEAM
Eucalyptus and steam combine to clear congestion, loosen phlegm, and help you feel more comfortable. If you have a sore throat, add 1 drop of peppermint and/or 1 drop of rosemary or thyme essential oil to this treatment for a stronger effect. This recipe makes 1 TREATMENT.
2 cups steaming hot water (not boiling)
4 drops eucalyptus essential oil
In a large, shallow bowl, combine the hot water and eucalyptus essential oil.
Place the bowl on a towel-topped table, and sit comfortably in front of the bowl.
Breathe slowly and deeply until the water cools. Repeat as needed.
Tip: While this strong steam treatment isn't suitable for children under 6 years, you can treat them to a safe aromatherapy experience by placing 2 drops of eucalyptus essential oil in a warm bath and allowing them to soak for at least 10 minutes.
Essential Oils for Headaches
PEPPERMINT-EUCALYPTUS TENSION TAMER
Peppermint and eucalyptus essential oils increase circulation, ease inflammation, and relieve pain. This recipe makes about 1 TABLESPOON.
In a roller bottle, combine the eucalyptus and peppermint essential oils. Let them rest for about 1 hour.
Add the fractionated coconut oil, cap the bottle, and shake well to combine.
Dab a small amount of the tension tamer across the hairline, both on the forehead and the base of your neck. If you notice your headache is centered at a certain spot on your skull, apply a drop of balm there as well. Take a few minutes to relax and breathe deeply while the essential oils work. Repeat as needed.
Tip: Keep the roll-on in a cool, dark place between applications. This headache remedy is also a good choice for relieving sinus pain, simply apply a dab to each temple.
Essential Oils for Skin
BALANCING GERANIUM MOISTURIZER
Geranium essential oil balances and tones skin, plus it promotes elasticity by increasing natural oil production when needed. Coconut oil contributes lasting moisture and provides a barrier between dry skin and harsh elements. This recipe makes about ½ CUP
32 drops geranium essential oil
½ cup coconut oil, barely melted
In a jar with a tight-fitting lid, combine the geranium essential oil and coconut oil. Using a thin utensil, such as a chopstick, blend completely.
With your fingertips, apply a pea-size amount of the blend to each area of dry skin, using a little more or less as needed. Repeat as often as you like, particularly after bathing and showering, before bed, and a few minutes before getting dressed each day.
Tip: Keep your moisturizer in a cool, dark place between uses. If you don't want to use coconut oil every day, add geranium essential oil to your favorite fragrance-free body lotion: 32 drops of essential oil to ½ cup of body lotion.
Essential Oils for Sleeping
CLARY SAGE BEDTIME BALM
Clary sage has a peaceful scent that might remind you of lavender once it has evaporated. It's an effective insomnia remedy by itself but works well when combined with other relaxing essential oils. This recipe makes about 1 TABLESPOON.
36 drops clary sage essential oil
1 tablespoon fractionated coconut oil
In a roller bottle, combine the clary sage oil and fractionated coconut oil. Cap the container and shake well to combine.
Dab a small amount on each temple. Dab another dot or two onto your chest. Relax and breathe deeply until you drift off to sleep.
Tip: Keep your balm in a cool, dark place between uses. If you'd like to use clary sage to help a child under 12 with insomnia, reduce the amount of essential oil to 8 drops and use the remedy as recommended. For children under age 6 years, try lavender essential oil instead.
That's for a start! You can follow more of Anne's recipes and blends for many other conditions in her book, Aromatherapy for Beginners. Aside from its simplicity and easy-to-follow instructions, you'll find that she includes the nine "must-have" essential oils in most cases so you can maximize their use.
If you have a working recipe/s that you find helpful for a particular condition, share them in the comments below so others can try them out, too. I'd be happy to update the list to feature your blends.
Until then, keep spreading that fragrance of awesomeness!